Is an economic hurricane coming?
Brace yourself for an economic hurricane.
That was the advice given by JPMorgan Chase CEO Jamie Dimon at a financial conference in June. Just a few days later, Tesla CEO Elon Musk echoed Dimon's feelings, telling his executives that he has a "super bad feeling" about the current state of the economy amid plans to cut the company's staff by 10 percent.
What may be coming
While these major company CEOs feel the economy is trending in the wrong direction, they aren't the only ones who feel this way. According to a survey by CNBC, more than 80 percent of Americans believe the country's economy will fall into a recession by the end of 2022. The University of Michigan's Consumer Sentiment Index is falling to levels not seen in over four decades. Even economists seem more gloomy than normal, saying the odds of a recession in the next year are at 30 percent – twice as high as they presumed just a few months ago.
Add in worker shortages, supply chain issues, and the rise of inflation, and leaders in the business world are starting to grapple with the new reality, an economic recession that could be deep and lengthy. Companies are readying for a downturn, researching ways to insulate themselves from the worst of what is seemingly coming.
The past is the key
To solve the issue and prepare themselves for what is next, business leaders would be wise to look to the past. After all, the last U.S. recession was only 15 years ago. Looking back can help companies survive, but also thrive once the recession has reached an end. That's where Watermark Consulting comes in.
For over ten years, Watermark has studied the connection between customer experience (CX) and shareholder return (via third-party feedback surveys and public company stock performance numbers). The resulting Customer Experience ROI Study has now become one of the most cited analyses of its kind. While the study showed how CX-leading companies outperform their competition over the long-term, we wanted to analyze the data from just the last recession (2007-09). The results were stunning.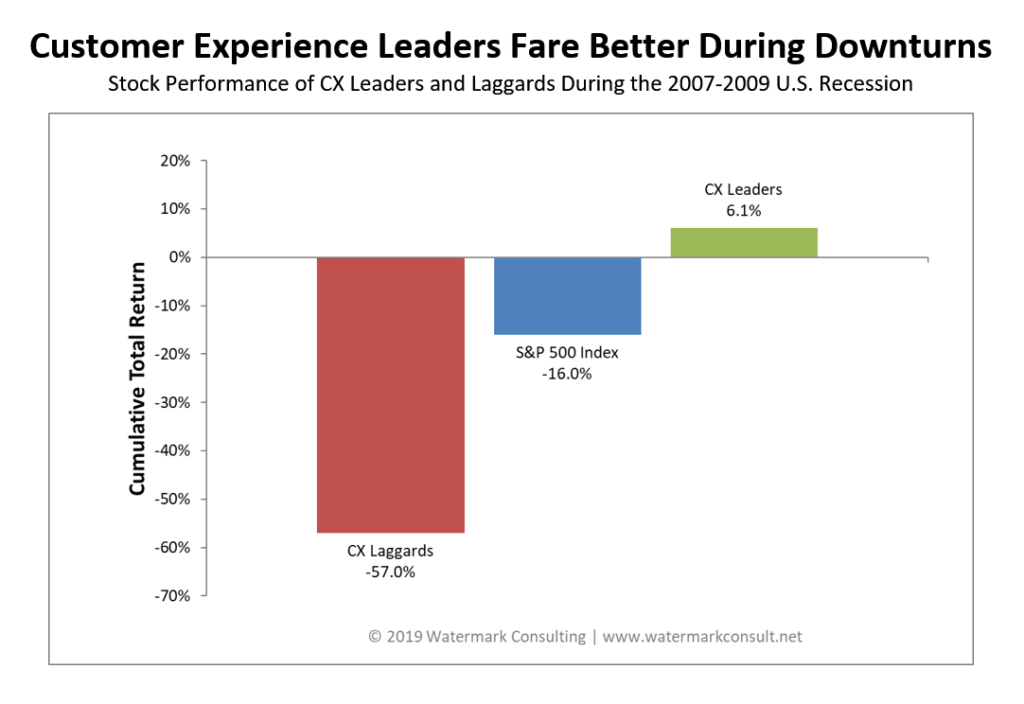 CX-leading companies weren't safe from the effects of the last recession, but they clearly fared better than other businesses. While the market as a whole and the CX-lagging companies lost a large amount of their market value, the CX-leading ones actually netted positive shareholder returns.
Customer experience matters
It has been shown through many different studies that a great customer experience in turn leads to financial performance. It helps raise revenues, and since loyal customers stay around longer, they tend to be less price sensitive. They also entertain ideas for other products and services and they refer new customers to your company. A great customer experience also helps control – if not even reduce – expenses, since less needs to be spent on new business acquisitions (thanks to referrals and repeat business). The cost of serving these customers also decreases as fewer complaints means less pressure on the company's operating arm.
There are other conclusions that can be found from Watermark's CX ROI data, mainly that the company's customer experience quality really does influence its chances of successfully navigating an economic downturn.
CX-leading firms appear to be better cushioned from the more severe issues of a recession, and they also seem to bounce back sooner when the economy improves. That is likely due to how customer behavior is shaped by both great product and service experiences. Businesses that offer these outstanding experiences become one of the last places that people make budget cuts, while also being one of the first they return to when their budget is less restricted.
When an economic downturn is near, many business leaders result to knee-jerk reactions by cutting expenses to try to overcome the impact – cutting travel, freezing hiring, postponing investments, etc. – but the data in the Watermark study shows that if cost-cutting begins to undermine the quality of a customer service experience, then it could damage the company's ability to battle back following the recession.
So, how does a CEO or business owner capitalize on client experience to protect their company from the worst effects of the looming recession? Here are three possible strategies:
1. Give customers a reason to return
We aren't quite in a recession just yet, and both consumer and business spending are at strong levels. This means companies have many chances to shape customer impressions. Take advantage of the opportunity before people begin to cut back on spending. Polish and refine your customer experience now so that there is a reason to return in the future.
2. Cut costs by anticipating avoidable customer questions
Believe it or not, it is possible to cut costs while also enhancing the customer experience. Shift your focus to upstream improvements that eliminate downstream and costly customer inquiries. You could have better product assembly guides, clearer, and more detailed invoices, or make the process of returns easier. These upstream improvements enhance the customer experience and can be delivered at a more competitive cost.
3. Reexamine what is important to your consumer
As economic conditions change, so may your customer's needs, wants, fears, and aspirations. Product features or experiences that were relevant previously may no longer be as important. New customer requirements may also present a chance to engage consumers in a different, yet more enticing way.
Prepare your business now
While it is not entirely possible to avoid all the pitfalls of an economic recession, the Watermark analysis does show that a better customer experience can help protect a company from the worst impacts of a downturn while also setting it up for success when the economy improves. If you deliver an experience that customers love, they'll reward you with their business, either now or in the future.
An original, unedited version of this article first appeared on Forbes.com